Life Changing Packages, Programs & Books
Explore - Learn - Experience
Accelerated Soul Healing Session Package
This package includes 2 sessions per month for 3 months. A total of 6 sessions.
You will experience all of the following & in the combination of your choosing -
Spiritual Hypnotherapy
Learn & use EFT (Emotional Freedom Technique) for emotional healing & more
Angel Guided Healing Session with Reiki
Spiritual Coaching on areas of your life you want to improve
 Law of Attraction Coaching
Personalized Guided Meditation Session
Your investment in you - $480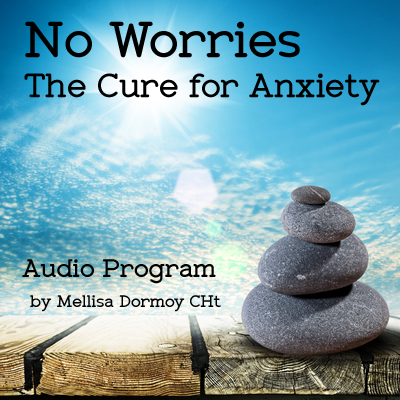 NO WORRIES - The Cure for Anxiety MP3 Program
Stop struggling and being overcome, learn how to be in control of your thoughts rather than your thoughts controlling you! The Cure for Anxiety program includes 4 audio tracks:
Freedom from Anxiety
Insomnia Cure - Deep Sleep & Total Relaxation
Freedom from Anxiety anytime Affirmations
Abundance Mindset
You'll use the first two tracks day & night and the others whenever you want. Learn how your mind processes worry and turns it into anxious thinking. Free yourself from panic attacks and the gripping anxiety through guided imagery which will have you relaxed and peaceful in no time at all!
Mellisa Dormoy CHt is joined by Dr. Joe Vitale from the movie The Secret and a host of other experts as they reveal how to use the power of YOUR MIND to obtain your wildest dreams!
Everyone wants abundance! If you feel like life is a struggle - money, love, being a parent, your career, or simply wondering if there's more in life, this is the book you'll want to read! People everywhere are talking about The Law of Attraction and how thoughts become things. They've learned that thoughts and in turn, beliefs, create their own reality.
Each experience you have in life you've been attracting to you because of the thoughts and beliefs you hold about yourself and about life. Click to LEARN MORE
DEEP SLEEP - No more Insomnia MP3
If you're having trouble sleeping through the night or simply cannot get to sleep... this audio will allow your mind and body to relax deeper than ever before!
This audio track is also part of our No Worries Program.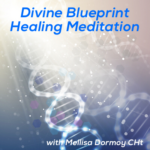 Divine Blueprint Healing Meditation MP3
In this beautifully guided meditation, you or your teen will be gently and lovingly guided through a full body and mind relaxation. In a deep state of relaxation, you will bring forth your own mind's ability to remember your natural state of divine perfection. Our mind is the master over our body, and through the heart center we are able to access our subconscious to restore vitality and feel our very best! This audio permits our subconscious mind to remember it's power and perfection!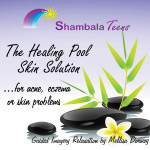 The Healing Pool - Skin Solution MP3
This audio MP3 comes to use from ShambalaKids. It can be used by teens or adults for acne, eczema or other skin issues. Imagine diving into a glorious healing pool and being healed from the inside out! This is exactly the type of imagery used in this wonderfully guided imagery audio to promote health and wellness in skin tissue.
Teen Meditation Coach Online Training
This online program will teach you all about teaching meditation to teenagers. You'll learn the history of meditation, the progression of meditation and about teen stress. You'll learn how to set up your own meditation classes and studio (or where to look for space) and you'll receive a certification at the end of your course from ShambalaKids after assignments are turned in and corrected.