Best-Selling Author, Certified Hypnotherapist, Reiki Practitioner & LOA Teacher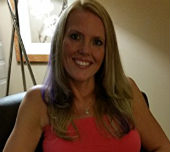 Thank you for choosing to embark upon this wonderful, life changing journey with me as your tour guide!
About Me : Certified NGH Hypnotherapist, Best Selling Author, Teacher/Trainer, Entrepreneur & creator of over 30+ meditation and guided imagery CD titles and programs.
Zodiac Sign - Leo!
Passions - I absolutely love my work and it's my heartfelt mission to help people connect with their true passions, clarify their sense of purpose and get through the rough patches of life. I love nature, personal development, self & spiritual awareness & open mindedness.
Life Work - I've worked in the holistic arts field for 16 years and as a hypnotherapist just as long. Before becoming a certified Hypnotherapist through the NGH, first in Paris, France then in NYC; I owned a life coaching business and a natural therapies school in Europe teaching classes & giving workshops. I've always worked with people to help them improve their lives - teaching and sharing what I know.
Dreams that have come true - Being a best-selling book author and having authored and produced over 30 guided imagery relaxation CD titles to date - everything from children's meditation, teen relaxation and guided imagery and hypnosis CDs for adults. I absolutely love helping people heal the past and achieve their goals and dreams. I also am a firm believer in teaching our children how powerful our repetitive thoughts are.  I've written three books including the Amazon #1 Best Seller - The Midas Touch: The World's Leading Experts Reveal Their Top Secrets to Winning Big in Business & Life released in April, 2015 with Dr. Joe Vitale from the movie The Secret, along with other co-authors. In this book, I discuss the power of the subconscious mind and it's ability to transform our lives even from a very young age.
Things I'm proud of -  I'm the founder of ShambalaKids & Teens which offers guided imagery CDs and Teacher Training in kids' and teen relaxation and meditation. You can find my work on iTunes and Amazon and as well as other distributors. I'm also a certified Law of Attraction Coach through Dr. Joe Vitale. I am trilingual and am always trying to learn more languages. I volunteer my extra time as an EMT & Dispatcher in Westfield, NJ, and more recently became a certified 911 operator as well as an emergency medical dispatcher. I love these fields of helping people in stressful situations and have found that my skills as a Stress Management specialist really come in handy in life.
Things that bring me joy - Nurturing my loved ones, being an inspiration to others around me, feeling close to Spirit and that my soul is on the right path, following my intuition & living an adventurous and fun, joy-filled life. Also, LAUGHTER, and lots of it! I LOVE connecting to with my Angels each and every day, feeling their presence and reassurance, listening to the Holy Spirit within, and feeling my heart of fire for LOVE! Besides my family, it's my work that motivates me everyday. Knowing that my job that day is to give the very best of me to help whomever needs me.
Qualifications include:
BA in Psychology from Excelsior College in NY
Graduate credits from La Sorbonne University in Paris
Numerous specialized certifications including Hypnosis Certification NGH, Guided Imagery, Past Life Regression Therapy, PTSD, Stress Reduction, Pediatric Hypnosis, NLP, LOA and Reiki Master Teacher.
I am a true believer in the mind-body-spirit connection. Spirit always comes first in my life and mind is the builder of our lives and our experiences.
If you'd like to set up an appointment please send me an email with your contact information and a little background information on what you want to work on or you can  text me or leave me a message at 732-877-9964. I do ask new clients or students to pre-pay half before our session.
I'm looking forward to talking with you!